Books are the main source of knowledge for mankind. Since the invention of technology, people usually search for everything online, but if you want to study deeper, you have to read books. Books act as guides and advisors for people. Many people are facing problems in their sexual lives. These problems can be from less desire for sex to getting less satisfaction after doing the bodily interaction. In this article, we will discuss the top books that people should read in order to resolve sexual problems or have an amazing sexual experience.
Here are the top 20 books on sexuality, getting better sexual interaction, and life from all over the world.
1.) The Wild Woman's Way:
Writer: Michaela Boehm
Publication: August 21, 2018
Publishers: Atria/Enliven Books
Pages: 256
Story:
The Wild Woman's Way is an art piece published on sex and intimacy topics. The writer as an expert on sex relations, focused on the importance of body interactions and needs. The story is about the secrets of getting more pleasure from the bodily connection. It also focuses on how mind-body linking is important in bodily relationships. It is about listening to the pleasant signals coming from the body to have the best moments of sexual interaction. You can do practical exercises, and also understand your feelings and senses about it.
2.) Mating in Captivity
Writer: Esther Perel
Publication: October 13, 2009
Publishers: Harper Collins E-books
Pages: 264
Story:
Mating in Captivity is a book focusing on the maintenance of sexual desire and urges after the years of a relationship. The author is a sex therapist and specialist who gathered all of her advice and experience in a single book. The book will assist and guide you in developing a sexual life that is proactive. You will get your experience better in love and lust after reading the book. As a female, she will guide you better on what a female partner desires in bed.
3.) Come as You Are
Writer: Emily Nagoski
Publication: March 2, 2021
Publishers: Simon & Schuster
Story:
Come as you are is a sexual guidance book written by Emily Nagoski, who is a sex educator. In the book, you will learn scientific knowledge about women's sexuality, bodily demands, and desires. The book is about getting more pleasure and satisfaction using different methods. It is not totally scientific, but it's about thinking about sexual desire from a scientific perspective. Emily discussed sex life, the importance, and the perfection of the moments that happen between two people.
4.) Pleasure Activism
Writer: Adrienne Maree Brown
Publication: March 19, 2019
Publishers: AK Press
Story:
Maree Brown wrote a really helpful book for people who are working on sexual desire or wanted to work on it. In the book, she discussed that sexual desire is not related to the body alone; she showed a philosophical perspective on sexual urges. She is saying that you will get pleasure after working on yourself and making yourself a better sexual partner. The book may involve some of the practices that can help you get more pleasure in your bed.
5.) Sex Matters
Writer: OSHO
Publication: First edition (July 11, 2003)
Publishers: St. Martin's Griffin
Story:
OSHO as the best writer gives an amazing overview guide to people illustrating the importance of sex in our lives. He does not only write about its importance but also talks about how sex is more than physical. The book focuses on the fact that it is important to have good sex in a relationship, according to nature. He is focusing on the point that sex is not bodily, it is natural.
6.) Richer Together
Writer: Dr. Rob and Janelle Alex
Publication: 1st edition (May 14, 2015)
Publishers: CreateSpace Independent Publishing Platform
Story:
Richer Together is more of an analysis than a book. The book is about how healthy relationships in which there are fewer problems, are better in sex. The writer wrote the book after interviewing more than twenty couples. This book can act as a great guide for loving different kinds of people.
7.) Secrets of a Soulful Marriage
Writer: Jim Sharon and Ruth Sharon
Publication: 1st edition (August 20, 2014)
Publishers: SkyLight Paths Publishing
Story:
Secrets of a Soulful Marriage is about having a good relationship as a key to having success in sexual life. The lack of understanding of the problems is the root cause of many divorces in old age. The book is based on resolving issues and creating new ways to have satisfying sex with your partner.
8.) 101 Nights of Great Sex
Writer: Laura Corn
Publication: 2018th edition (January 13, 2013)
Publishers: Park Avenue Publishers
Story:
101 Nights of Great Sex is a book that can be given to new lovers and newlywed couples. Laura as a female writer elegantly described many ways to express yourself in sexual activities. It focuses on satisfaction, entertainment, love, and enjoyment while you are intimate with each other.
9.) The Guide To Getting It On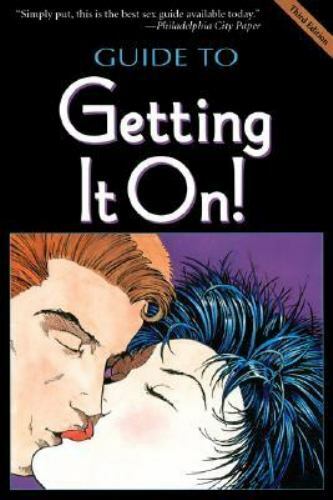 Writer: Paul Joannides
Publication: February 14, 2017
Publishers: Goofy Foot Press; 9th edition
Story:
The Guide to Getting It On provides complete guidance about sexual relationships. It covers every part of sexual life. The book is about the history of sex, the need for sex, and sex in popular culture. It includes a little fun element additional to write for educational purposes. You can gift this book to your generation so that they can learn about sexuality.
10.) Transcendent Sex
Writer: Jenny Wade
Publication: Original ed. edition (April 6, 2004)
Publishers: Gallery Books
Story:
Transcendent Sex is a book that is about the metaphysical and spirituality behind sex. It is about how people can learn about having spiritual connections while doing sexual activities. This is an amazing sex help book for you.
11.) Speaking Kind Words
Writer: Rob Alex Ph.D. and Janelle Alex
Publication: December 6, 2010
Publishers: Mission Date Night; 2nd edition
Story:
The book will help you change the course of your sexual life by just changing the words you use. The main focus of the book is using words that can make sex more amazing and satisfying. You can use different words at the right time so that the indications become more powerful.
12.) Little Moments of Love
Writer: Catana Chetwynd
Publication: June 19, 2018
Publishers: Andrews McMeel Publishing
Story:
Little Moments of Love is a book about having a childhood-like vibe in your sexual life. It is about having very simple, loving, and silly moments with sex. The book is a very nice item to read when you want your intimate times to be more special.
13.) Girls & Sex
Writer: Peggy Orenstein
Publication: March 7, 2017
Publishers: Harper Paperbacks (Reprint edition)
Story:
The book Girls and Sex is a whole research project about the complications of sexuality in the modern era. The book covers the tough conditions of the bodily demands of high school and college hookup cultures. The book is based on the real-life experiences of psychologists, students, and other academically related individuals. People can take it as a candle to show the path in the complicated world of modern sexuality. If you are a parent or a teenager, you should read this book.
14.) Boys & Sex
Writer: Peggy Orenstein
Publication: January 7, 2020
Publishers: Harper (Reprint edition)
Story:
Boys and Sex, like Girls and Sex, is a book written by Peggy Orenstein. It is written after two years of research on the experiences of boys in sex and interaction. Peggy worked on the experiences of the boy's sexual relationships from the age of sixteen to the age of twenty-two. A fantastic guide is written based on extensive research on teenage boys. The writer also gathered all of the data in a very well-mannered way, making it an extraordinary sexual guide for males.
15.) The Ethical Slut
Writer: Janet W. Hardy and Dossie Easton
Publication: August 15, 2017 (3rd Edition)
Publishers: Ten Speed Press
Story:
The Ethical Slut is an amazing guide that gives very precise direction to the people who read it in order to maintain a loving relationship. You will get amazing guidance on how to be in a sexual relationship in the perfect manner. The book is about getting better at love, being honest with oneself, and learning skills to communicate in an amazing way with the other partner. It is also about how you will maintain your healthy life and relationship with your partners.
16.) Becoming Cliterate
Writer: Laurie Mintz, PhD
Publication: May 9, 2017
Publishers: HarperOne
Story:
The psychologist and the sex therapist Laurie wrote this amazing book, 'Becoming Cliterate'. The title suggests that the book is about clitoral stimulation. The whole book covers lessons and helps with the clitoris. It also contains a lot of information about body sexuality for people. The book covers the gap between male and female pleasure from sex. This is an amazing book to read.
17.) Love Worth Making
Writer: by Stephen Snyder
Publication: February 13, 2018
Publishers: St. Martin's Press
Story:
Love Worth Making is written by the psychiatrist Stephen Snyder. It is not about getting help and making relationships good. The book is about how to maintain passion in the sexual lives of long relationships. It is not about how you get it, but you should be getting pleasure from bodily relationships like this. The author's emphasis on memorable and satisfying sex is founded on an understanding of the needs of other people involved in the sexual event.
18.) Better Sex through Mindfulness
Writer: Lori A. Brotto
Publication: April 21, 2018
Publishers: Greystone Books
Story:
Lori is a Ph.D. holder who is working as a sex researcher and psychologist. In his book, he mainly focused on the difficulties people face while doing sexual activities. The main point he discussed was the lack of attentiveness of one or both partners while having sex. The reasons behind such behavior and what a person should do in such conditions are the main ideas covered in the book. He also described some of the easy exercises that can help partners get more pleasure from sex.
19.) Sexy Challenges Sacred and Sensual Experiences for Lovers
Writer: Rob Alex
Publication: March 23, 2012
Publishers: CreateSpace Independent Publishing Platform
Story:
This book covers almost 50 challenges for people, which gives you not just reading material but also action plans. These actions are based on adding more fun and entertainment to your love life. These challenges help you change your style of doing sex with your partner. So your lovemaking will be exciting every time.
20.) Changing Reality
Writer: Serge Kahili King
Publication: April 2, 2013
Publishers: Quest Books
Story:
Changing Reality is an amazing book written by Serge K, and it is based on ancient knowledge of sex. He discussed that sex is an art we perform on this planet. The book is a complete guide for a person to improve his or her life, and behavior, gain happiness, and be pleased in sexual activities.